WOW! Did you check out the slide shows from last week's challenge? The layouts are totally amazging! The Design Team had a real difficult selecting a winner for the
Fresh Pages Co.
Spooktacular kit, but they did! Yahoo!!! And the winner is.....JONI MOORE!!! Congratulations! Please send your address to me so I can see that your kit gets postal.
This week's challenge is very sentimental to me. When my daughter was born the doctors only gave her a 50/50 change of surviving. She was life-flighted to a different hostipal minutes after she was born and I did not get to hold her until she was three days old. The picture I used for this layout is of me holding her for the very first time. You can see the IV still in her head. The words of this song could not be any more perfect. Anyway, check out what the Design Team has created for this challenge for inspiration. They are all amazing layouts!
Aleida
Allison
Dolores
Mary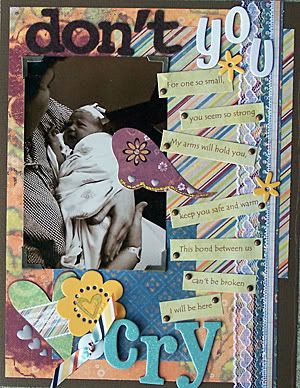 Shelly
If you decide to complete this challenge, please post a link to your creation in the comments so people can stop by and leave you some praise. Here is a link where you can also post your layout for everyone to see.
2ScrappyChixDesigns
This week I have a special little prize package put together for one lucky person. All you have to do is leave us a comment and a random winner will be chosen from those listed in the comments. Have fun and we can't wait to see what you create this week!