Wasn't the slide show for Video GREAT!
Thanks to everyone who participated!!! The winner of the challenge was.....GINE!!! Congratulations girl!
Your layout was just beautiful! Julie! You picked up on my hint. You are one smart cookie! hahaha Did anyone else get it?
This week we have
Just a Girl
by No Doubt to inspire you. We hope you like this challenge and find a little scrapping time to create a layout. Remember, this song is only meant to inspire. Feel free to change the lyrics to suit your needs. For example, Just a Boy.
This week, I received some very sad news. A couple of Design Team members need a break and will be stepping down at the end of December. This means that we will be looking through our Scrapping the Music Hall of Fame for three new talented scrappers to join our design team. If you are already an inductee and would like to be considered, please drop me an email. If you are not a member, you still have a couple weeks to create a layout that "wins" one of our challenges making you a member of our Hall of Fame.
Here is what the Design Team came up with for this week's challenge. By looking at these layouts, I am sure there will be some wonderful layouts created this week.
Glenda, Guest DesignerBarbara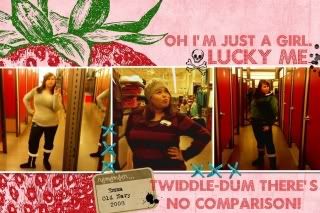 Jessica
Julie
Kristii
During the month of December, we will only be posting two challenges. One on the 7th and one on the 14th. We will be giving a totally AWESOME prize created by the Design Team members during the weeks of December 21st and the 28th to one of our lucky blog followers. More information on this will follow in December.
If you have any questions about this week's challenge, please feel free to drop me an email. Thanks and have a GREAT week!!!